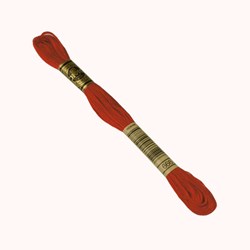 DMC borduurgaren Mouliné
€
1
,
45
DMC Mouliné is de parel onder het borduurgaren. Door miljoenen borduursters over de hele wereld gebruikt. Het DMC Mouline garen heeft een prachtige glans. De gebruikte kleurstoffen zijn buitengewoon lichtecht en blijven mooi in de was (kleurecht).
Te splitsen in 6 draadjes. De lengte per streng: 8 meter en verkrijgbaar in 465 kleuren.


Kan verstuurd worden als brievenbuspost.
Kies hiervoor bij de verzendmethode TNT brievenbuspost NL max 100gr. + € 2,30 of BE max. 100 gr. + € 3,45.